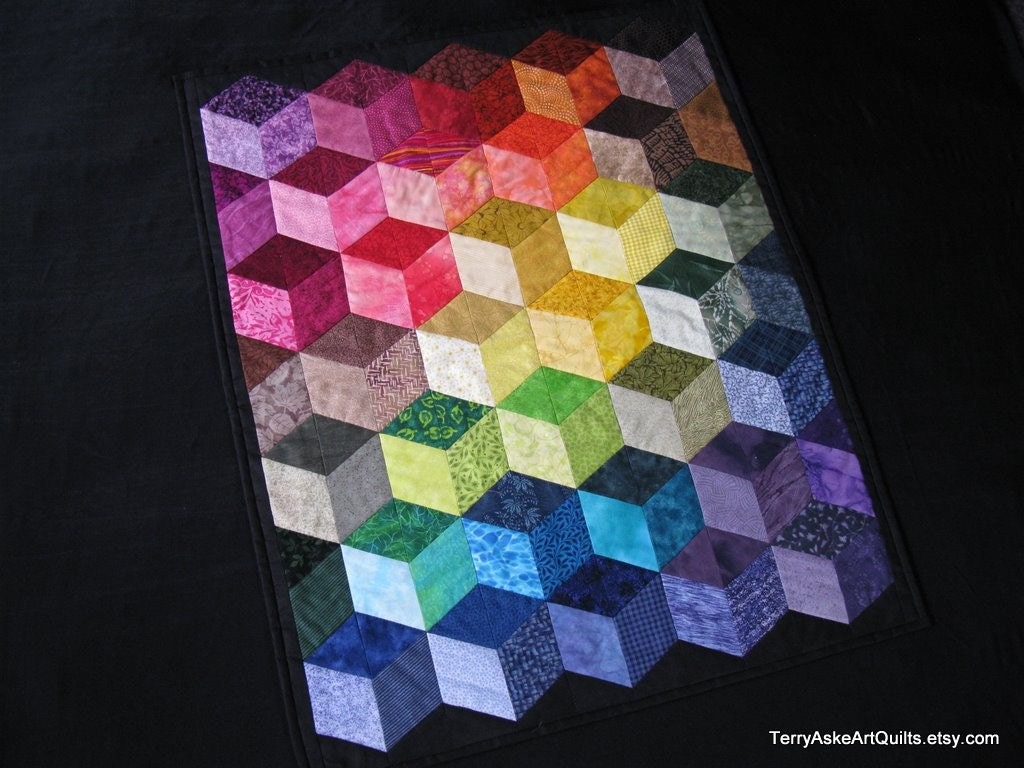 Well, it's over. And good riddance, I say! Panic knitting and homemaking is terrifying, especially when you hit a technique or supply that you neither know of nor possess.
Luckily, I got everything that I wanted to get done over with! I'm a little burned out on yarn as a result, but I'm sure that's fleeting.
Instead of yarn crafting, I've seriously been considering a quilt. I know, ha ha, what a large undertaking! And to think I've never properly quilted before! I'm feeling mighty ambitious though, and I have a few ideas that I've scraped out of the walls of my brain and managed to sketch into a graphing log book.
The design that we've completed (yes, Chris helped) was something of a psychedelic three-dimensional trip through the spectrum. The design we came up was inspired by the photo you see of the gradient quilt you see here. I've planned mine to be large enough to amply cover our queen size bed, if we so chose to.
I'm
highly skeptical
of this actually coming together, though. I've watched lots of videos and educational television shows on quilting, and I'm not sure I can handle it. I only have a small Janome sewing machine, and presently, I can't find the presser foot. (It's only been missing a matter of a day or so, I just can't recall where I put it down!) I'm not too sure what it's capable of, but I imagine you can do things with even the most basic machine, right?
I would really like to learn more about sewing, especially after reading so many of your blogs and seeing what you're all so capable of. I'm not sure what's been stopping me, but now that Christmas is over, I think it's worth looking into!
Where did you start sewing? What are some of the best learning projects that you think offers technique education? Do you have any tips for a beginner? (I've sewn before, but not quite to a pattern or anything!)