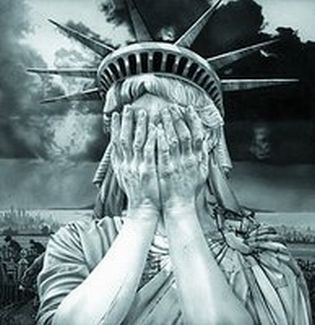 I'm not going to link to anything as I imagine you pay some attention to the news out there.
Our President released a long-form birth certificate yesterday. Something he should have
never
had to do, which is why I suspect it took so long for the White House to release it. Have to humor those insane conspiracy theorists out there (who, might I add, are never satisfied).
Many people have said it, and I'm starting to believe it: if Barack Obama was white and named Joe Smith, no one would question his citizenship. A lot of the problems he's facing has a lot more to do with race than I would have ever imagined. There are some serious fundamental fears in this country revolving around other
colors
and other
faiths
outside of white Christians.
I'm at a loss of what to say to all of this madness. Well. Not entirely, obviously. I'm just so flabbergasted that this kind of crap would be tolerated by even the mainstream media in this country. The "birthers," as they're often referred to, have actually made it on to television sets across this nation, into the homes of millions. What would once be just some kind of minority conspiracy theory has actually made it all the way to Donald Trump's desk.
Of course anything Trump does is suspect, since he's for sale every second of every day. If it scores him a few extra bucks, he'll do it. Like Craig Ferguson says, the man was able to bankrupt a casino - something that mathematically shouldn't happen. Ever.
I'm
appalled
at what people in this country will eat up and spit out as mantra. I'm disappointed that so many people are acting so ridiculously. I don't know where the rational majority are. We can't all be this stupid.
Meanwhile, the average price of a gallon of gasoline is hovering around $4, and people are still buying Hummers. We're at war in 3 different nations. The young men we send to fight our wars are coming home, scarred for their spared lives. We're poisoning our air, our water, our children. Corporations can sway elections legally. Unions have lost their ability to collectively bargain -
the entire purpose of a union
. On the other end of the union spectrum, our unions have a stranglehold on our public schools.
Am I alone in feeling completely and entirely overwhelmed by the bad stuff happening out there? How do you feel about everything? What do you find your most pressing issue to be??