Once again, Chris and I find ourselves without the internet. The modem we originally replaced over Christmas break was less than a year old. I returned it to the big box electronics store and asked for a replacement, since it was only a few months old. The store didn't argue with me. They just handed over another modem, same make and model.
Ladies and gentlemen, less than three weeks later, the new modem has broken. I'm frustrated, but I think Chris is even more frustrated about it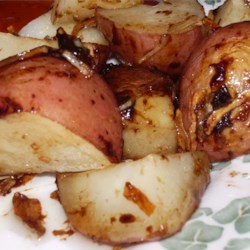 .I have a whole bunch of stuff written up and ready to go, but no connection to use.
But on to the delishies. A few nights ago, I drew a blank for a side dish for pork chops. I was in a rush, so I didn't want to do anything too time-consuming. Trusty old
Allrecipes.com
came in to save dinner again. This three-ingredient side dish was absolutely
perfect
and I've since done it a couple of times.
Ingredients:
1 (1 ounce) envelope of dry onion soup mix
2 pounds of red potatoes, halved (I actually use more potatoes and I quarter mine for a little less time in the oven)
1/3 cup of olive oil
Directions:
Preheat the oven to 450F
Combine soup mix, potatoes, and oil in a large plastic bag with a seal
Throw the combination into a medium sized baking dish and put everything in the oven for ~40 minutes.
Because I chop my potatoes smaller, it usually takes a little less time in the oven - around 30-35 minutes, but I was baking the pork chops at the same time at 425F so I just maintained the 40 minutes due to the lower temperature. It's really not very hard. If you're turning those potatoes at all, you'll be able to tell when they're done.
Definitely worth a shot! Wicked cheap and wicked awesome! The recipe can be found on
Allrecipes.com
.