A friend did a whole thing where she went "fantasy shopping" with a million imaginary dollars. I wanted to play.
If I had a million dollars, I would...
Get a chicken coop with plenty of chickens to tend to
A large, fully-functional, rustic kitchen in...
...a quaint, smallish-sized New England cabin which would be on...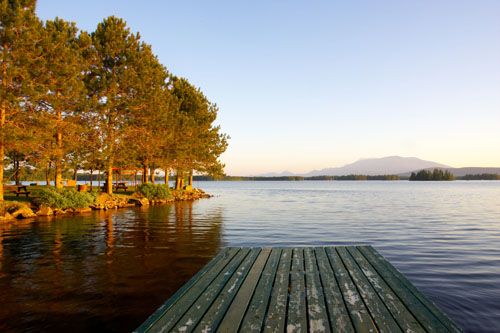 ... a large lake with plenty of land around me.
In this cabin, I'd want a nice craft room, with a large table in the center like this one has, with plenty of natural light and room for yarn and fabric.
There's only so many things a million dollars would buy me, so since I'm indulging in things, let's run with it.
I'd also want to buy a girl's summer camp. I've always dreamed of running an affordable camp where girls can come for the summer, make friends, and learn new things about themselves, and about nature. I think every kid needs a nice break from the cell phones, the internet, and the commercialism.

If I won the lottery or something similar, I'd probably end up giving most of it away to those around me (Steve, if you're reading this, I'll remember!).

I don't want or need anything fancy or expensive. I'm happy shopping at the Salvation Army for my wardrobe and kitchenwares. I really can't think of anything frivolous or cute that I want, except for an endless stash of yarn.

I'm grateful for everything I've already got, and I'm sure my life will be completely happy without a million bucks. But it's fun to think about what if, what if...